Why invest in Uruguay
Excellent conditions for agribusiness:
Strategic location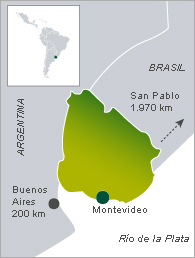 Due to its strategic location, Uruguay becomes MERCOSUR main gateway. Moreover, Montevideo has been named as the Capital City of this regional market with 200 million consumers. Go to: Mapa Digital de Uruguay
Weather
The weather is temperate, with marine influence in the South; average rain in the year amounts to 1,100 mm, and average temperature to 18º C, ranging from 6ºC in the winter and 32ºC in the summer.
Distances
The maximum distances are 700 km from North to South and 600 km from East to West. The country has some 500 km of coastline on the River Plate and the Atlantic Ocean. This offers easy access from the production establishment to ports, beaches and tourism resorts.
Land use:
Uruguay covers 176,215 km2, 90% of its territory (some 16 million hectares) are devoted to agricultural production:
Wild land and other

64%

64%

Grains

8%

8%

Artificial forests

7%

7%

Artificial prairies

6%

6%

Others

15%

15%
| | | |
| --- | --- | --- |
| Type | Hectares | % |
| Wild land and other | 10.518.000 | 64.3 |
| Artificial prairies | 1.365.000 | 8.3 |
| Grains | 934.000 | 5.7 |
| Artificial forests | 1.071.000 | 6.5 |
| Others (Citrus and fruit, vegetables vineyards) | 1.957.500 | 15.2 |
| Total | 15.845.500 | 100.00 |